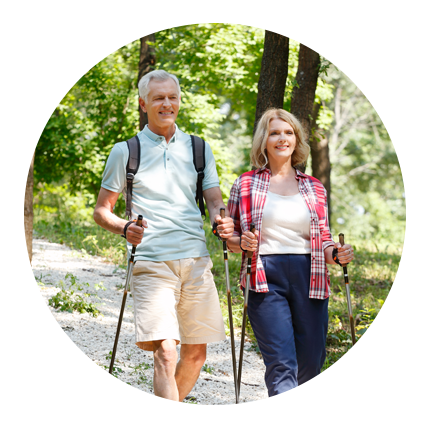 Frequently Asked Questions
The University of Ottawa Heart Institute Foundation is hosting its annual Virtual 5 km. If you're new to this event, here's what you should know.
What is a Virtual 5K / Virtual Event?
Great question! A virtual event is one that lets you participate on your own time. Register and complete the event on your time, at your pace, and in the location(s) of your choice. The only catch is that it must be done during the month of June. It's all on the honour system we trust that you will do what you've committed to doing…but, just incase, we'd like you to send a photo when you're all done!
How do I do this?
Another great question! It's easy!
Step 1
Register yourself, your team, or your family. (You'll even receive a tax receipt for your registration fee)
Step 2
Personalize your fundraising page.
Step 3
Let your friends, family, coworkers, and social media network know what you are up to by sharing the link to your personal fundraising page.
Step 4
Complete a 5 km walk, jog, run, or cycle, or 30 minutes of physical activity including swimming, yoga, crossfit, zumba, or whatever gets you moving - on YOUR time, at YOUR pace, and in the location(s) of YOUR choice - sometime during the month of June.
Step 5
Once you have completed your Hearts in Motion activity, tell us about it! Send us a picture and/or post it to your social media networks with the official hashtag #Heart5K. You could win great prizes just for taking part and raising money for The Heart Institute!
How much does it cost?
We have a few options for you plus you will receive a tax receipt for your registration fee.
Adults (18-64)
$25
Seniors (65+)
$10
Youth (13-17)
$15
Kids (12 and under)
$10
Family
(up to 4 participants max 2 adults)
$60
Corporate
(up to 10 adults)
$200
There is no fundraising minimum but every donation counts so, consider setting up your personal fundraising page and encouraging people in your networks to support your Hearts is Motion mission…and the Heart Institute (plus you could win a prize for fundraising and participation so it is really a win win).
Can I do this?
Yes!
And we'll have your back every step of the way!
Hearts in Motion makes it easy you choose the activity and the location. You can do it!
Where can I do my 5k?
You choose! It can be a route you normally walk/run/jog/bike in your neighbourhood. It can also be a route you take at lunch or you can try a new one.
Did you know that the Trans Canada Trail runs right along the water in Ottawa seems like the perfect place to start your Hearts in Motion journey, doesn't it! Explore the Trans Canada Trail map
Don't be stingy if you find a great trail or plan some training runs and walks, let us and your fellow Hearts in Motion participants know about it via social media. Just use the #Heart5K hashtag!
Where's my medal?
Don't worry you'll get a medal! Once you're done your 5 km, email us your photos. The medals will be mailed to you in July!
I want to raise funds for the Ottawa Heart Institute.
Wonderful! If you need help setting up your personal page, just contact a member of our team and we will get you started!
Where does my support go?
We're glad you asked! Your support of the University of Ottawa Heart Institute through Hearts in Motion and any number of initiatives throughout the year goes straight the heart of care in your community. Donations to the Heart Institute enable us to fund vital research into cures and better treatments for heart disease, sustain education and prevention programs, and support world-class patient-care. As we prepare to open the doors to our new building the Heart Institute's first major expansion in our 40 year history we are focused on buying the critical and highly specialized equipment needed for the new facility.