Dr. Marc Ruel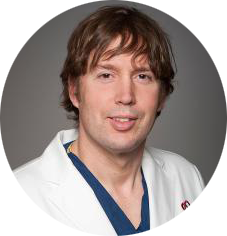 I am Chief of Cardiac Surgery at the University of Ottawa Heart Institute but I am also a member of this community, grateful each day for the support that the University of Ottawa receives from people like you! Whether hosting an event or finding creative ways to raise awareness and critical funds, it is clear that the Heart Institute has a special place in the hearts of many.
As the 2018 February is Heart Month Ambassador, I am revitalizing my personal pledge to support the Heart Institute, not as a surgeon but as a member of the community we care for. I invite you to join me in showing your support for the work we do here each day by making a donation.

I want to take this opportunity to tell you about amazing innovations at the Heart Institute those that are already in place and those that are soon to be in place, with the opening of the new tower on April 2nd. I want to share with you because none of this would be possible without your support.
Our Minimally Invasive Cardiac Bypass Surgery Program:
Normally, in a coronary artery bypass graft¬ing procedure also known more simply as bypass surgery, our surgeons must make an incision in the chest large enough for our hand to be able to perform the steps necessary to restore normal blood flow to an obstructed coronary artery.
In 2005, together with my colleague Joe McGinn, MD, of New York, I introduced a minimally invasive technique which requires only a tiny five centimetre incision between two ribs. We then use special tools to gently rotate the heart to bring each artery requiring grafting into view.
The benefits of this procedure to our patients include shorter recovery times and lower infection rates, with the additional bonus of enabling our patients a return to their normal routine much more quickly. The benefit to the patients provides the motivation to both myself and the surgical team to ensure that this innovative surgical procedure is available. Due to the support of our community, both academically and financially, the University of Ottawa Heart Institute team now leads an international trial to evaluate the benefits of this technique.
Our new Hybrid Operating Room:
The Hybrid Operating Room, part of the Heart Institute's clinical expansion, is a sterile room designed to accommodate an integrated, team-centered approach to patient care. Interventional cardiologists, heart surgeons, anesthesiologists, and imaging specialists work together in a single, cohesive space which allows them not only to combine skills and equipment, but also to bring a hub of knowledge that supports collaborative, real-time decisions and fully addresses patient needs as they arise during the procedure.
The Hybrid OR exemplifies the teamwork that is the bedrock of the Heart Institute's philosophy of care, now and in the future.
Our new Robotics Program:
Cardiac surgeons at Heart Institute will continue to perform minimally invasive procedures but soon we will also be using leading-edge technology to do so. Powered by robotics, the da Vinci® Surgical System features a magnified vision system which gives us 3D high-definition view inside a patient's body. Its high-precision micro-instruments are guided by our surgeons, seated next to the patient in order to operate the da Vinci system. Each of these instruments can bend and rotate in smaller, more minute movements than a human hand.
My trusted colleague Dr. David Glineur has been appointed as the Director of the University of Ottawa Heart Institute Robotic Program. A program team has been created and will undergo very specialized training in the coming months. With this program, the Heart Institute will be able to provide much less invasive cardiac surgery and faster recovery after procedures for our bypass and mitral valve surgery patients. We look forward to being among the first cardiac-care centres in North America to offer this type of surgery to our patients.
I am sharing this with you now because YOU make it all possible! Healthcare institutions like the Heart Institute do not receive funding from any level of government for the purchase of equipment and, as the new clinical tower is set to open on April 2nd, generous support from our donors and supporters will fund the purchase of critical and highly specialized equipment for the programs I've just told you about and to support ongoing, world-class care.